Switzerland is one of those places you know is pretty and amazing, but you have no idea how RIDICULOUS it actually is until you see it first hand. I am very fortunate to have friends all over the world – two of which live in Basel, Switzerland. My college volleyball teammate, Nola and her husband moved over there last November and are always up for visitors. (WOOHOOO). I currently get about four weeks of vacation at my full-time job, so I try to plan any of my trips around the "free" holidays as much as possible. So when Labor Day came rolling around this year, I decided to make the plunge and buy a ticket to Switzerland. Turns out a few of their other friends had the same idea… which is just AWESOME. More peeps equals amazing little adventures.
I had a few bumps on my journey to Geneva but it was all worth it. Note: I had a pretty awful reaction to Ambien. ALWAYS, ALWAYS eat before you take it. Otherwise you'll be the sickest you've ever been in your life. Trust me. Not fun. Nor ideal if you sit on the tarmac for three hours only to find out the flight will be cancelled. Let's just say I threw up pretty much all night. Ouch. Alas, our flight was rescheduled for the next morning. By then, I was feeling better and almost fully recharged. After a 7 hour flight from Montreal, I got to Switzy about 11:30 pm and had to take a few trains out to Vevey, where the rest of the group was staying. I got in about 1:30 am and woke up at this reDONKEY place:
I mean…. right? Waking up here was probably the best surprise. EVER.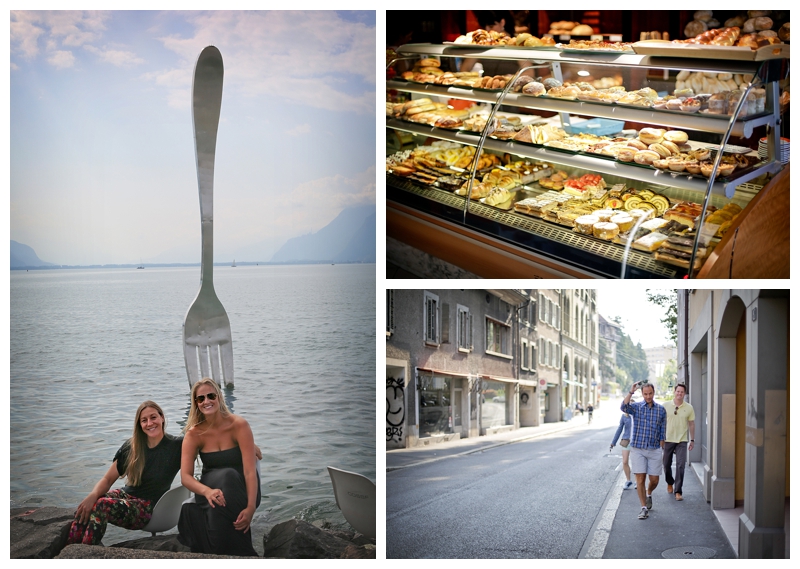 Ahhh Lake Geneva, Switzerland…. absolutely surreal. I spent my childhood summers on Lake Geneva, Wisconsin – so seeing this was an absolute dream come true for me. We spent the first day walking around Montreaux, touring Chateau de Chillon and eating the most fabulous swiss food. YUMTOWN.
I think I could take pictures of boats all day long. 😉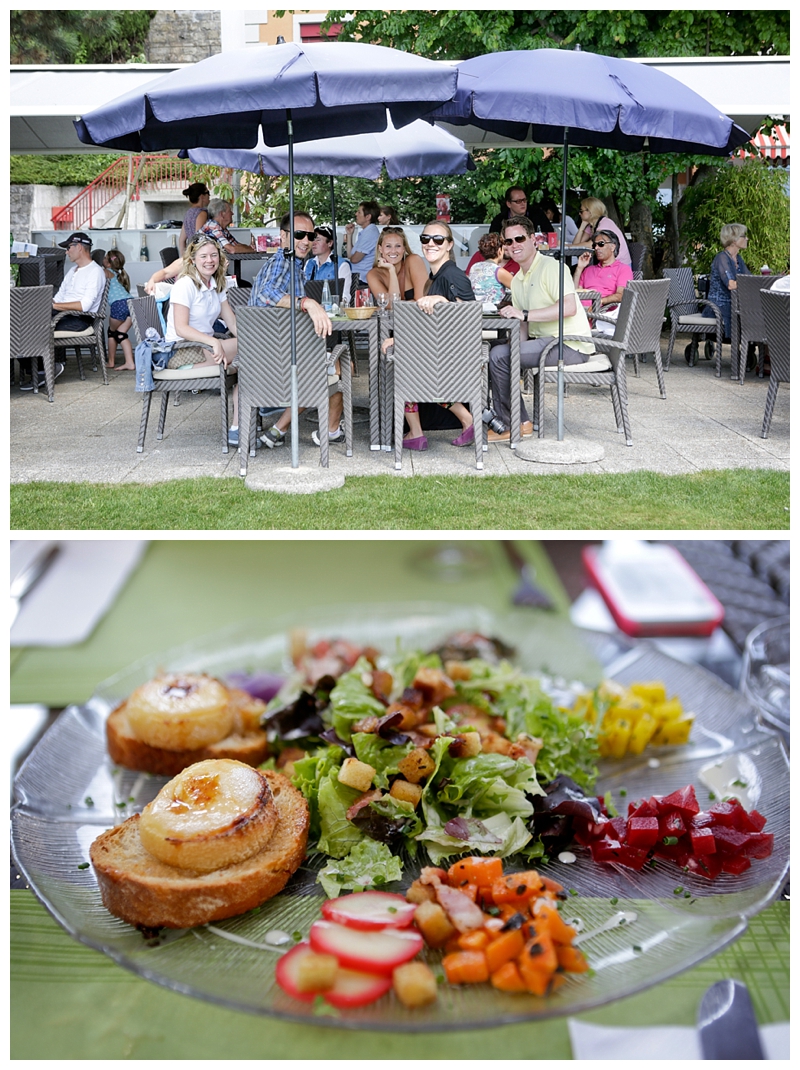 We ate lunch lakeside and split these insanely yummy salads. FYI: Lunch is lunch and dinner is dinner. There is no overlapping time in between…. so make sure you plan your day appropriately. Kitchens shuuut downnnn from 2-5pm. Eeks. Fortunately we made it in time to grab these salads. So worth it.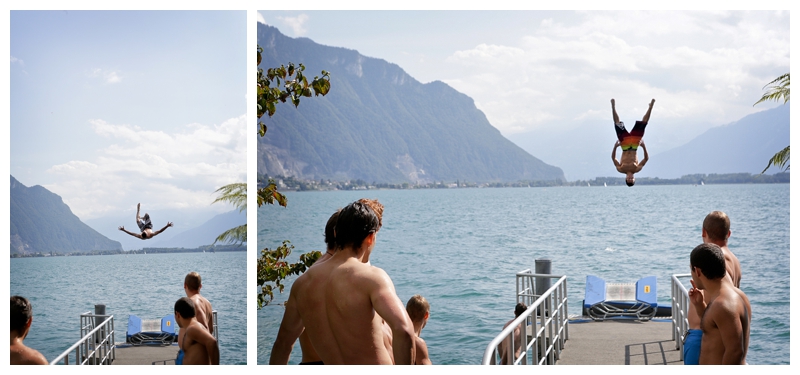 We happened to stumble upon these guys while walking along the lakeshore path. I mean… don't you just want to join them? Uhhh I DO! I was a bit disappointed I didn't have my bathing suit on – they were amazing!!!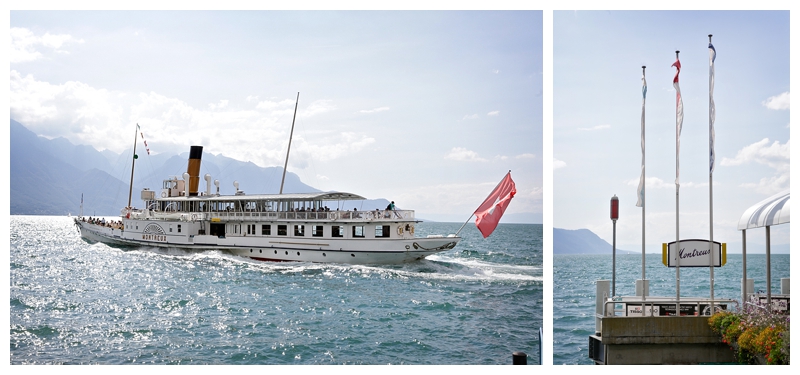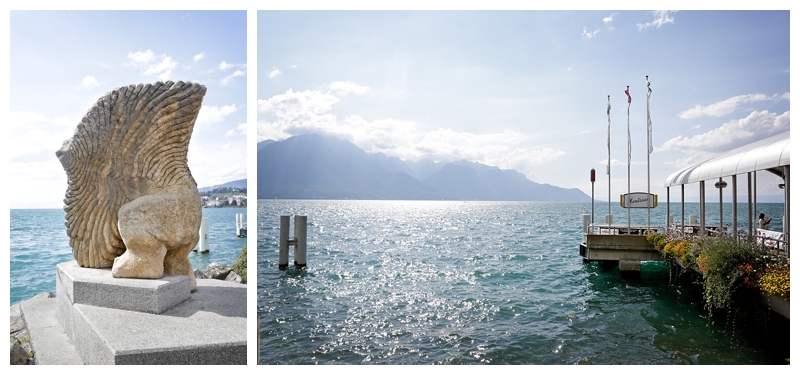 We ended up taking the ferry back to Vevey and I have to say, this was an excellent decision. Being out ON the water was an amazing experience – plus we got to see so much of Vevey from the boat and all that the rolling hills had to offer. Absolutely stunning to say the very least.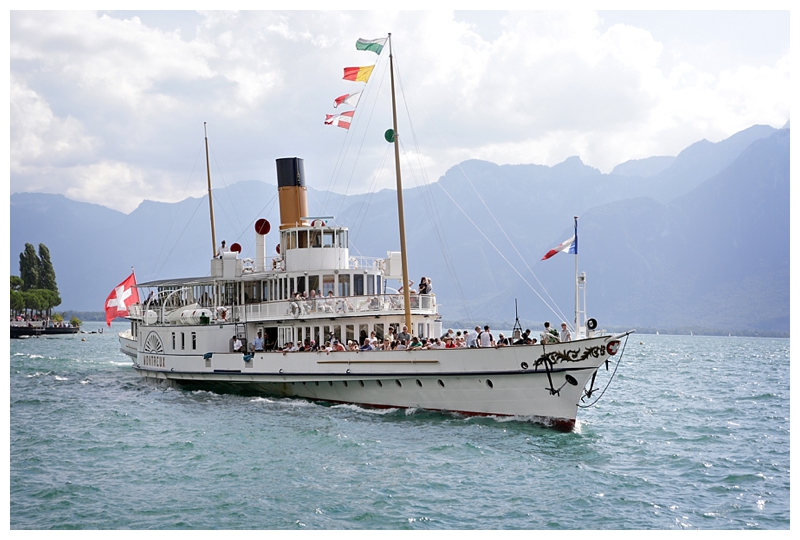 It twas very windy!!!!
What else would a bunch of 30 somethings do upon docking? Ride the carousel, of course. Four minutes of childhood laughter.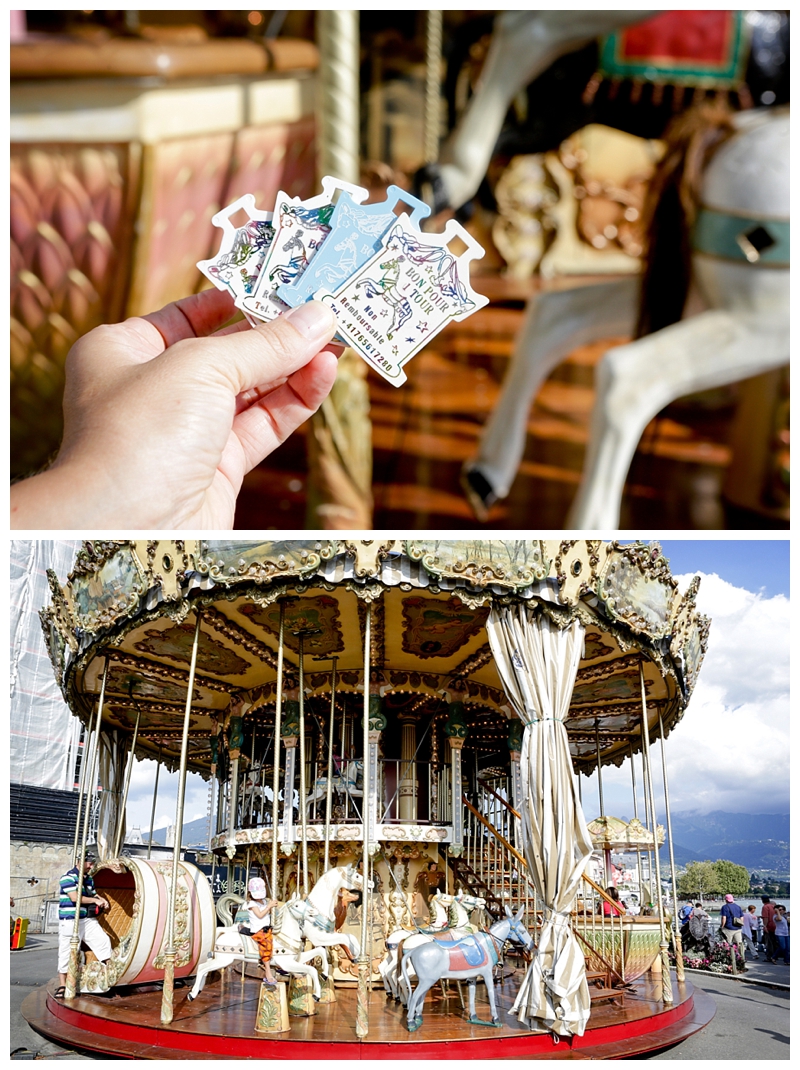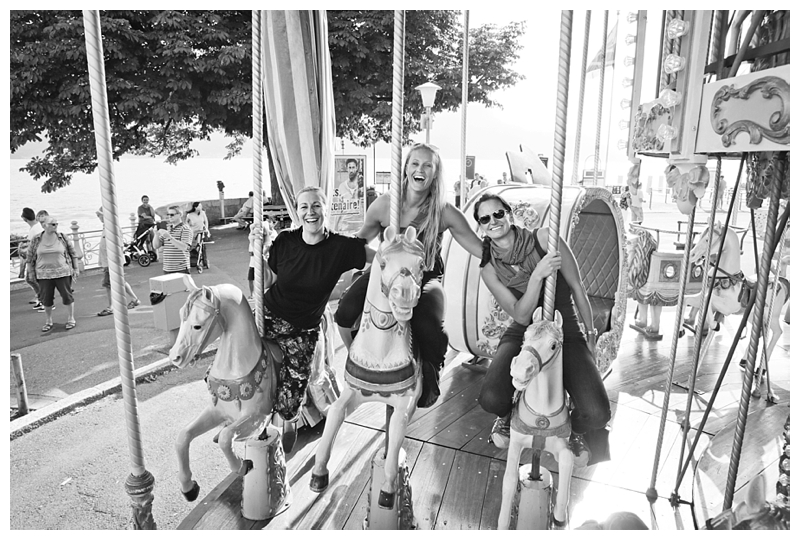 I kinda adore this shot. Reverse time about 25 years and you'd probably see the same expressions. Awwh!
Enjoying our vacation to the fullest – jump kicks, cannon balls and other awesomeness into Lake Geneva. #rockstars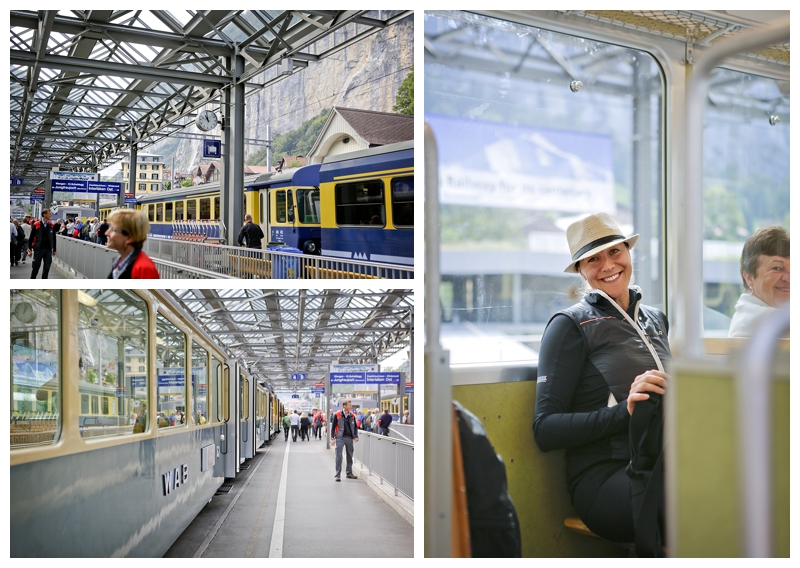 Welp, we said goodbyes to three of our travel friends and took off for Wengen (pronounced Vengen), Switzy. Nola and Christian skied here last Winter and recco'd the spot. Ummmm I am not sure what it looks like during Winter, but it's DONKEY (my word for beyond amazing) during summer. Whoa. Check out the photos below.
We spent two wonderful days hiking through Wengen, Grindelwald and Jungfraujoch (the highest point in Europe). Stunning… stunning… stunning.
Note: We clearly have a good time posing for the camera. Expect to see lots of jumping shots throughout these blog posts. Sorry, in advance (but not really all that sorry – we had fun).
Cow bells. Lots of COWS. Anytime we heard these guys (which FYI: You can hear pretty much anywhere in these valleys), Nola would perk up and go off on a manhunt/cowhunt for 'em. Hahaha. I can't wait to see her photos. So when Bessie the Cow (above) stared me straight in the face, I died. It's like the best shot, ever. I wish I could say I made one of my ridiculous noises to get her to look my way… but nope, this was pure LUCK. 😉
Grindewald is the kind of town that you picture when you think of Switzerland. Chalets, green rolling hills and a mountain range. So flipping cute. We spent a good half day here then had to head back up the mountain to our cozy little hotel and more importantly before the trains all stopped. But before doing so, you can bet we rented trotterbikes (scooters) and rolled down the hills, dance partied, sung and snapped a billion photos along the way. #besttimeever
The view from our hotel room at the Hotel Caprice. Amazing place, amazing staff and redonkulous views. #lovedit | Three days into my trip, we had to say goodbye to Nicole, as she had to head back to the states… BOOO! But since Nicole bought a year long half pass to travel throughout Switzerland, she will definitely be back later this year. (Insert: I am jealous).
Next up: Nola and I head off to Interlaken (and a bunch of other stops)… stay tuned. More pictures and a new blog post on that to come!
Tips:
Fly direct if you can. I could not get a direct flight from Chicago to Geneva… but alas, I had a short delay. If I had not gotten sick, I would have been fine with a cancellation.
Buy a Swiss Pass if you are going to take the train a lot. This was my plan, but b/c my flight got cancelled and I came in afterhours, I was unable to pick one up. Plan ahead and buy it before you get there… just incase something goes wrong.
Do not use the SBB app if you are buying a train ticket for more than one day. We ran into a problem with the train attendents b/c of this. Even though I bought a physical ticket and my friend had bought the same ticket via the app. #hugeheadache
Visiting the top of Europe, Jungfraujoch is a cool experience, but insanely overpriced ($160 without a half pass, $80 with a halfpass). Fortunately, I purchased a half pass shortly after my arrival and got the discount. Is it worth it? If the weather is good, Yes. But plan on it taking up most of your day. It's almost an hour ride up from Klein Schidegg!
The train ride views are insaneeeeeeeee – enjoy every second.
Get a salami sandwich from any bakery. Or really… eat ANYTHING from a bakery in Switzerland. YUM.
Skip the wine. Bleh.
Try Rosti and Raclette. Cheese amazingness.