"We travel because we need to, because distance and difference are the secret tonic to creativity. When we get home, home is still the same, but something in our minds has changed…  and that changes everything."
Oh travel, I adore theeeeeee.  Friday, August 28 marked the start of my latest wanderlust adventure (Berlin, Prague and Vienna). Due to the excessive amount of photos I took in each city, this trip will be broken into 3 separate posts. So with that, let's chat about BERLIN! Berlin was not a city that was necessarily on my bucket list, but I was super excited to have the opportunity to check off a new country whilst planning this adventure. Particularly one that my lineage hails from… Crazy.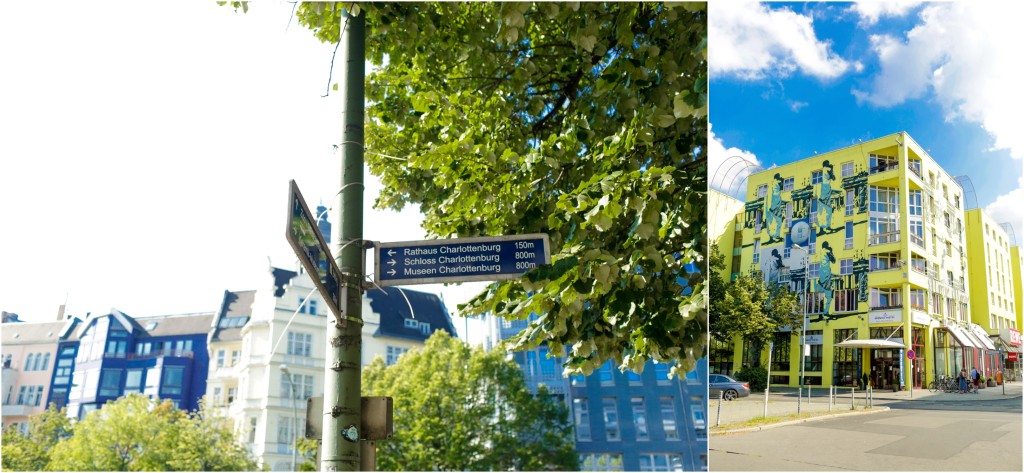 The Memorial to the Murdered Jews of Europe also known as the Holocaust Memorial consists of a 4.7-acre site covered with 2,711 slabs in a grid pattern on a sloping field. The stelae are 7 ft 10 in long vary in height. They are organized in rows, 54 of them going north–south, and 87 heading east–west at right angles but set slightly askew. An attached underground holds the names of all known Jewish Holocaust victims.(Source: wikipedia). It is quite humbling to stand amongst these towering slabs and kinda leaves you a bit speechless.
A few of us set out to explore Berlin on our own before our group (of 50 people) met up later that night! Jetlagged and aiming to stay awake all day, explore we did. <3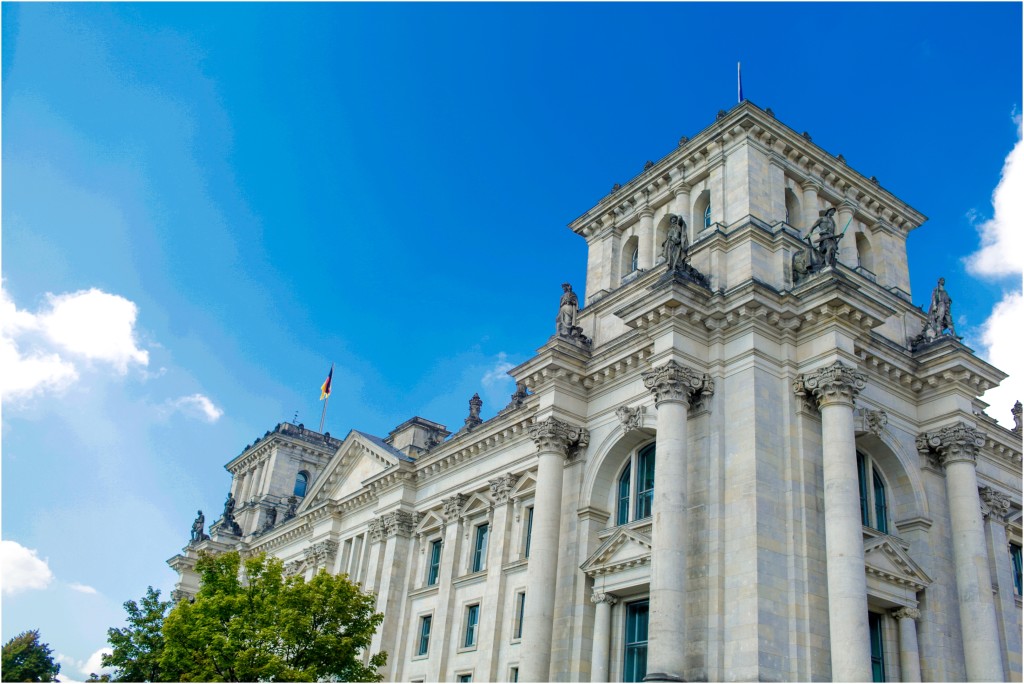 The Berlin Wall was a barrier that divided Berlin from 1961 to 1989. Constructed by the German Democratic Republic/East Germany in 1961, the wall completely cut off  West Berlin from surrounding East Germany and from East Berlin until it was opened in November 1989. The first version went up OVERNIGHT. Let's just say it was definitely WAY taller than I pictured, but also not what I pictured. I had no idea that there was something called a "death strip" between the walls. I thought it was literally just ONE wall, but nope it was actually TWO – with varying space between it. Anyone that crossed would be shot and killed. The history of this city is shocking, revolting and mesmerizing all at the same time.
Walking tour of Berlin: FYI – You always know when you're in East Berlin, b/c the street lights feature Ampelman – the cute little guy with a hat.
FYI – The building on the lower left is where Michael Jackson hung his son over the balcony… Our entire group, flipped around and snapped this shot too. Haha. Speaking of my group…. bam! There is all 50 of us. Primarily Aussies and Americans – but a fun group of like-minded travel folk. Thanks for sharing your stories, lovelies. Mad props to our Tour Manager, Katie who wrangled us all up from place to place.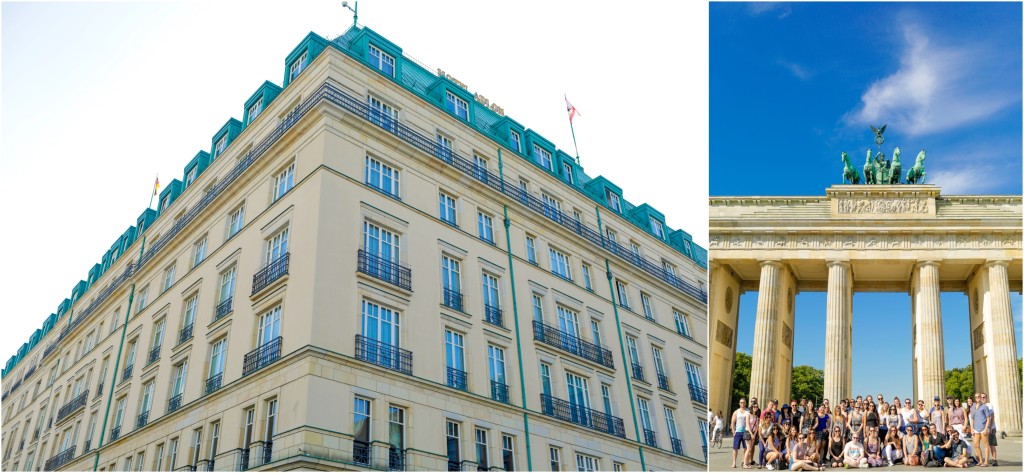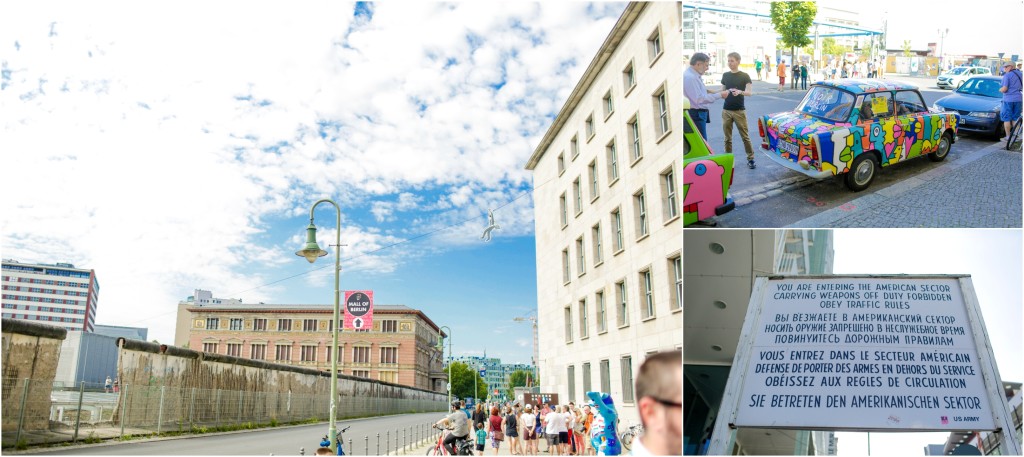 Sachsenhausen Concentration Camp // "Saxon's Houses" was a Nazi concentration camp in Oranienburg, Germany, used primarily for political prisoners from 1936 to the end of the Third Reich in May 1945. Camp punishments could be harsh. Some would be required to assume the "Sachsenhausen salute" where a prisoner would squat with his arms outstretched in front. There was a marching strip around the perimeter of the roll call ground, where prisoners had to march over a variety of surfaces, to test military footwear; between 16 and 25 mi were covered each day. Prisoners assigned to the camp prison would be kept in isolation on poor rations and some would be suspended from posts by their wrists tied behind their backs. In cases such as attempted escape, there would be a public hanging in front of the assembled prisoners. Some 30,000 inmates died there from exhaustion, disease, malnutrition, pneumonia, etc. due to the poor living conditions. Many were executed or died as the result of brutal medical experimentation.Sachsenhausen was intended to set a standard for other concentration camps, both in its design and the treatment of prisoners.
On the front entrance gates to Sachsenhausen is the infamous slogan "Arbeit Macht Frei" // Translation: "Work makes (you) free." (Source: wikipedia)
When we pulled up, a somber mood overtook the bus. However, it was sunny and it felt a bit weird.However, within an hour the skies turned black and the sky opened up…  and we all got drenched (like drowned rat, drenched). We all pretty much chose to walk the grounds on our own // Taking it all in. Getting lost in the stories on the walls. Let me just tell you this place is MASSIVE. I barely covered even half of it before we had to go.  It felt even more somber and raw with the weather change // It was an experience I'll never forget.
Night Street Art Walk // After drying off and getting changed, we were taken on an Street art walk through Berlin (Was this East?) by a local guide. Street art can be found everywhere in Berlin. On screens, façades, doorways and on walls, but also in places where one might not expect to find art. Corners of houses, bridge piers and the roadside become canvases for art that often has a political message. Unconventional forms of art such as urban knitting and guerrilla gardening offer new options for aesthetic expression that serve the common good. Public art inspires Berliners and visitors alike. It makes the cityscape more colourful and is clearly appreciated by everyone. (Source: www.visitberlin.de)
Wandering around Berlin // Our last day in Berlin we were free to do whatever we wanted — so a few of us set off and explored the churches, domes, street art and even went up in the Berlin Flyer (Basically a hot air balloon tied to the ground… but goes up 400 feet in the air) – which FYI… terrified me for some reason. In my defense, a little girl was running around on it and the weight shifted enough that we tilted a bit. AHHH! Hoewver, once we got acclimated – we were able to take the sights in. FYI – Berlin is absolutely GORGEOUS.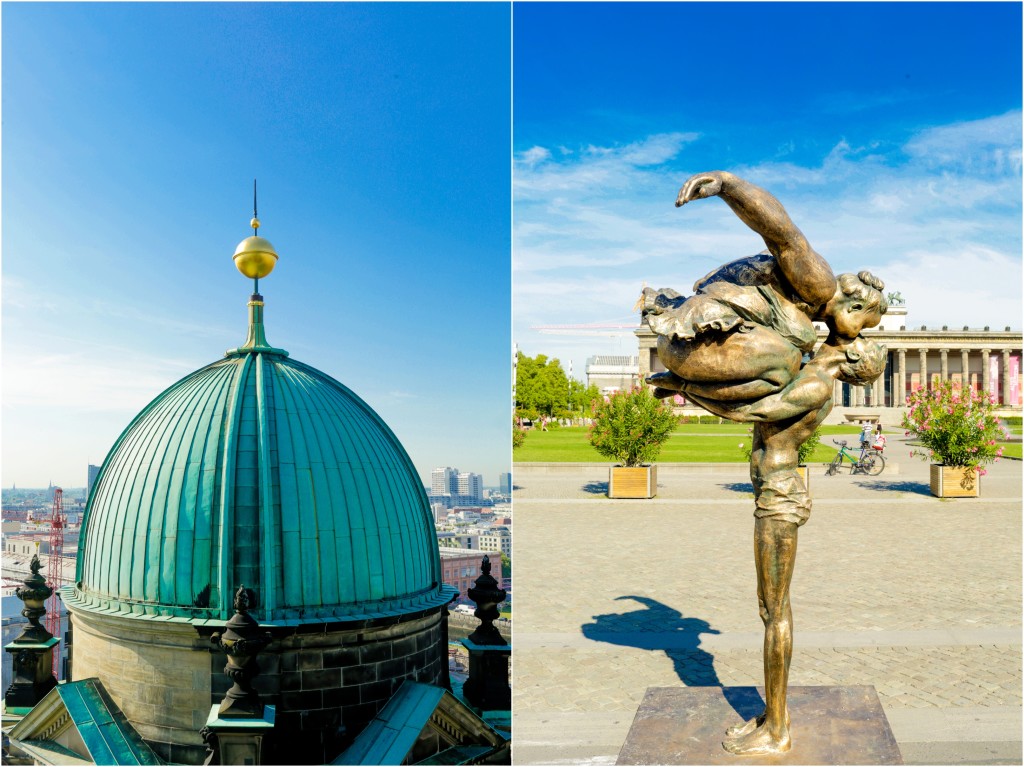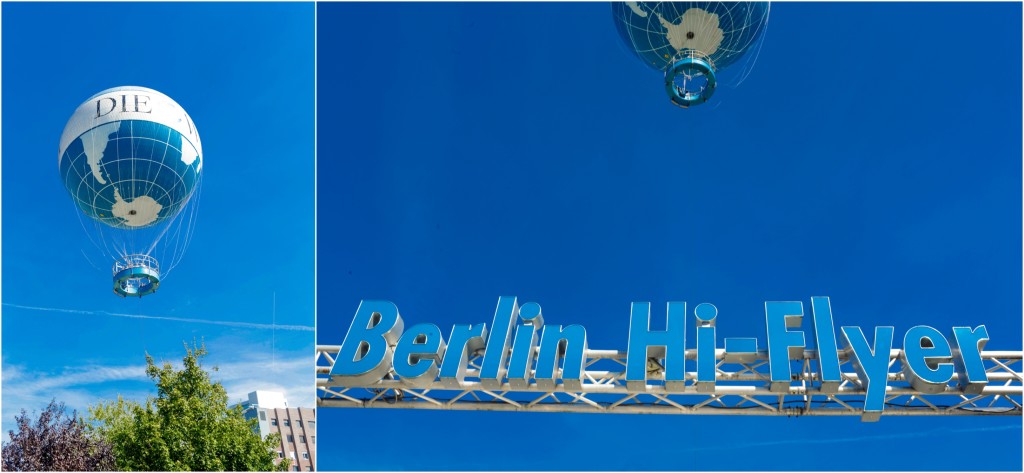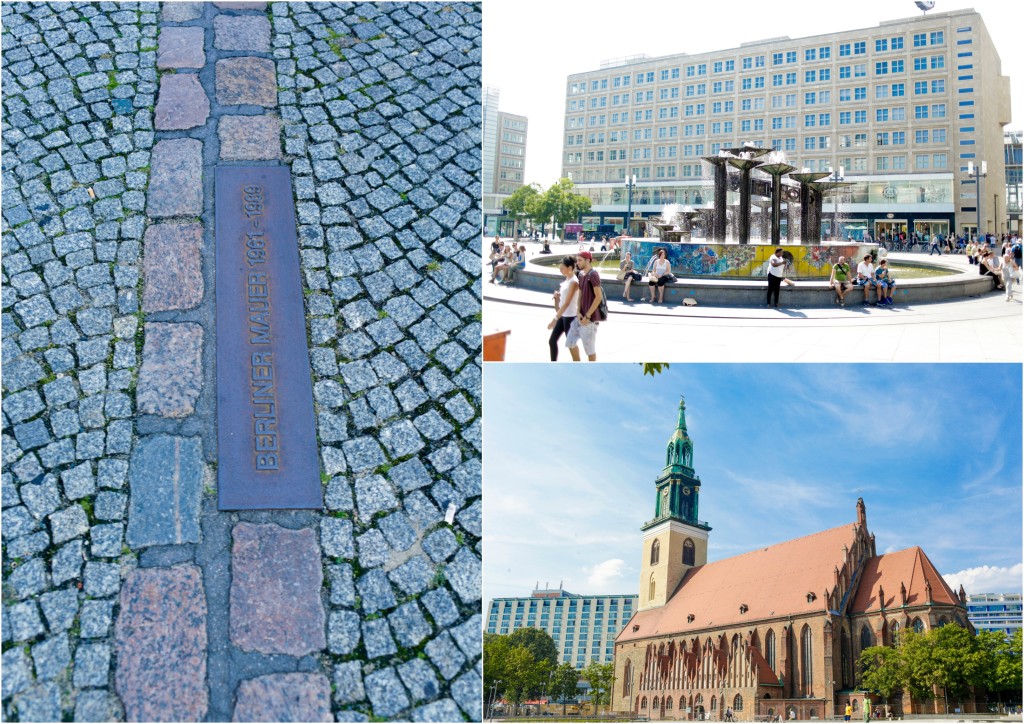 On our final night in Berlin, we went on a Progressive Dinner crawl via bike through the "Middle" of Berlin. We stopped at 2 restaurants and participated in a massive ping pong tournament in a hole in the wall pub (which I apparently forgot to take photos of – dang it).  Note: I did not bring my good camera, so iphone pictures will have suffice. I wasn't sure if I could pedal and not fall off my bike while battling the cars of Berlin. <3 Super fun way to wrap up our travels in Berlin! WOOT!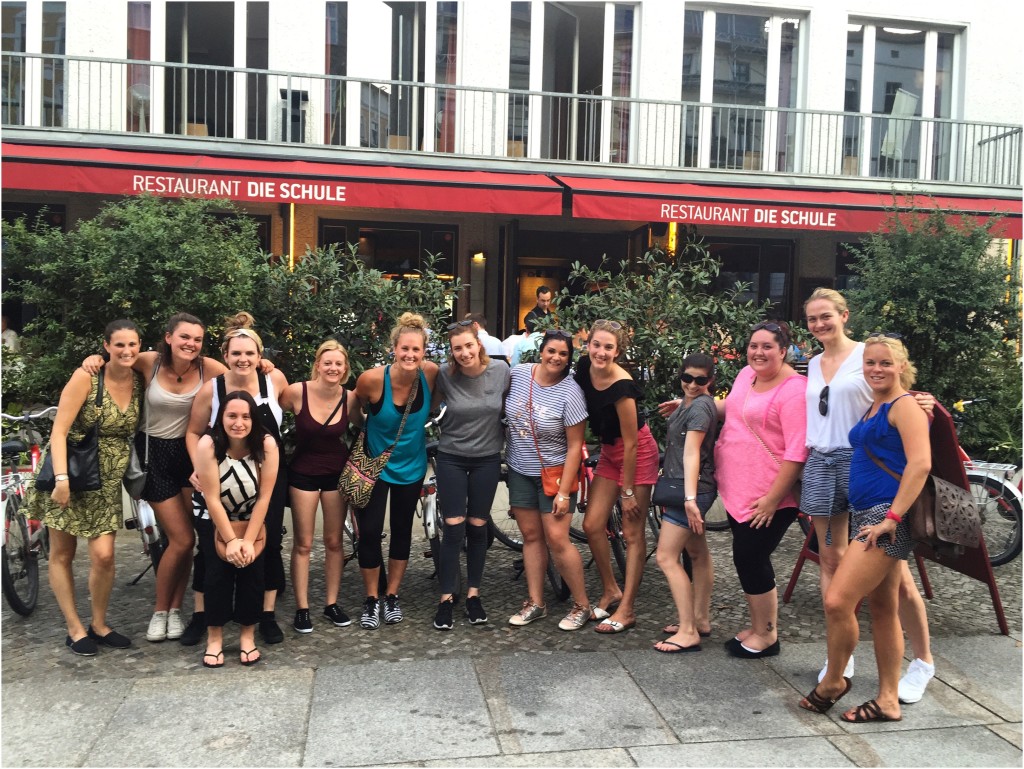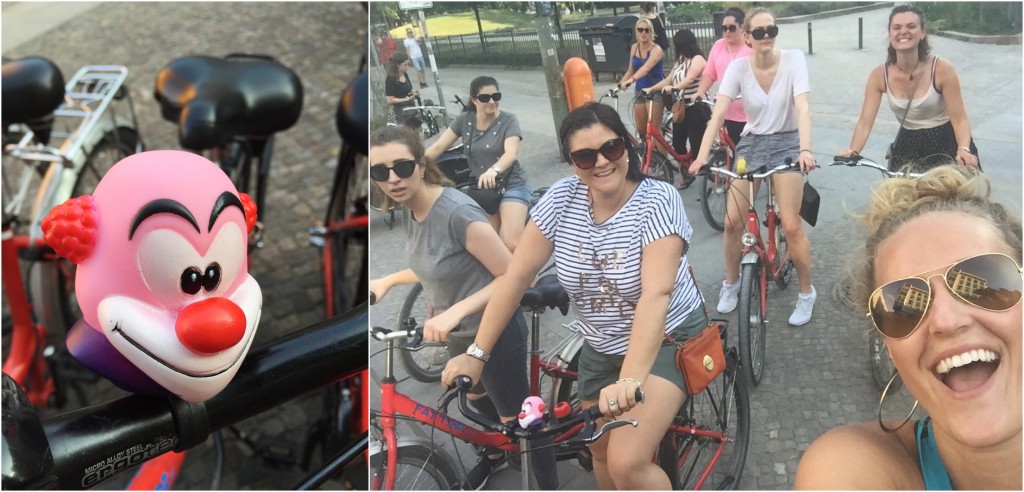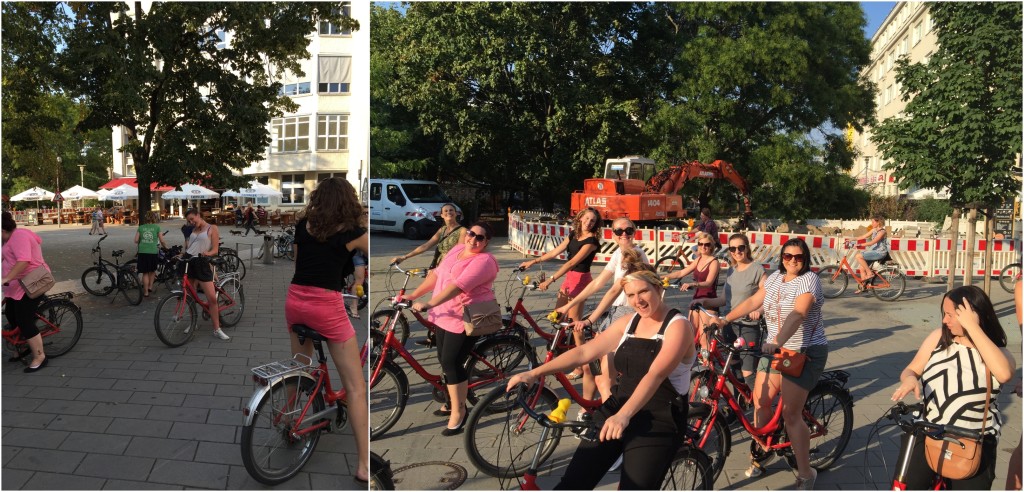 Post bike ride Champagne… WHAAAT? 🙂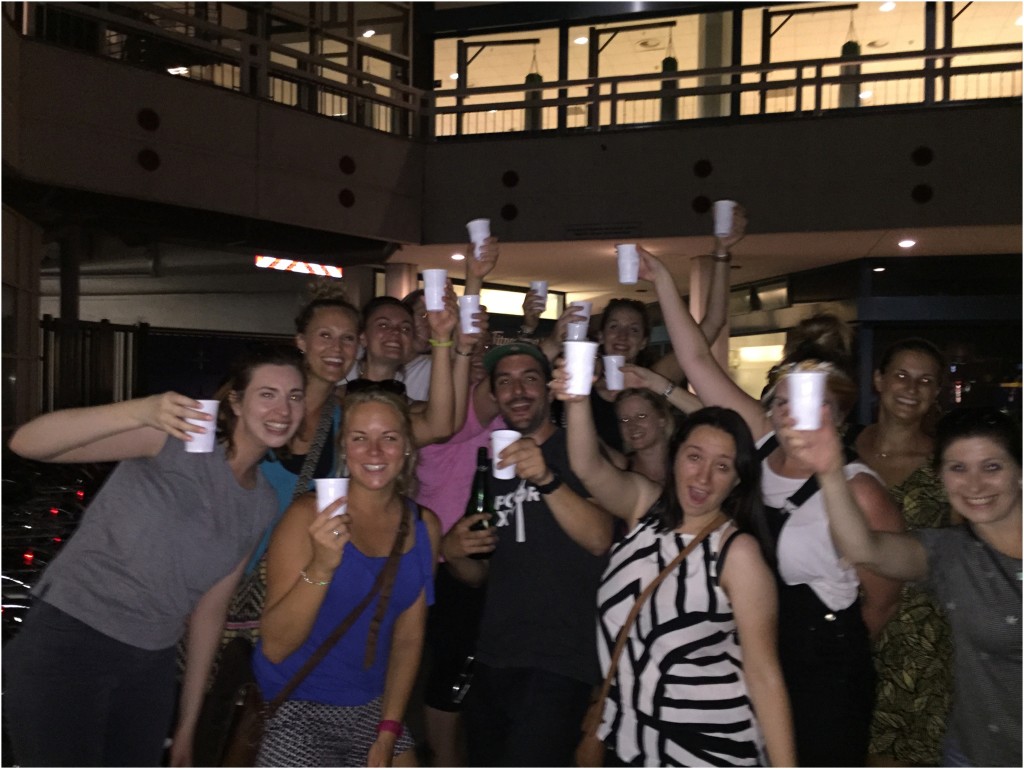 Confession: I fell in love with Berlin.
Up next? Prague, Czech Republic – which blows pretty much every city I've ever visited OUT.OF.THE.WATER. Wellllll maybe not Switzerland, but darn close. Stay tuned.